"Milarepa's fame came from no other reason than his sincerity and honesty in looking at the truth, even the bitter truth, and transforming that into a universal truth, the truth of all beings, the ultimate truth." -Khandro Rinpoche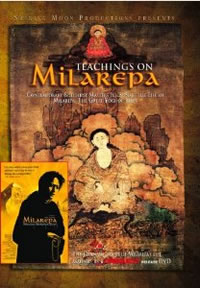 Lama and director Neten Chokling's Milarepa: Magician, Murderer, Saint brings the tale of Tibet s greatest yogi to the big screen in a dramatic plot of greed, revenge, remorse and awakening.
Teachings on Milarepa makes a wonderful accompaniment to Milarepa: Magician, Murderer, Saint. Jetsün Khandro Rinpoche speaks for nearly 40 minutes in this film offering commentary and insight into the great yogi's life. Rinpoche joins other Buddhist luminaries such as His Holiness the 17th Gyalwa Karmapa Orgyen Trinley Dorje, Sogyal Rinpoche and Ani Pema Chodron.


Purchase from Amazon and many other merchants.

---
Trailer for 'Teachings on Milarepa'