The Mindrolling sangha is deeply saddened at the parinirvana of the great master of the Nyingma School, Kyabje Dungse Thinley Norbu Rinpoche, who withdrew his consciousness into the expanse of dharmata on the 27th of December, 2011.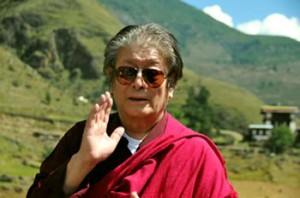 The Mindrolling Monastery, along with the worldwide Mindrolling sangha, will be spending these days following Kyabje Thinley Norbu Rinpoche's parinirvana in prayers and offerings. We urge everyone connected to Mindrolling to join us in supplications and offerings to the Noble Guru, Kyabje Thinley Norbu Rinpoche.
Kyabje Thinley Norbu Rinpoche was born as the son of Kyabje Dudjom Rinpoche in 1931 in Tibet. Kyabje Thinley Norbu Rinpoche was widely recognized as an emanation of the great master Longchenpa and was one of the most deeply revered masters within the Nyingma lineage. Kyabje Thinley Norbu Rinpoche was the holder of the Dudjom tersar lineage and father of Their Eminences Dzongsar Khyentse Rinpoche, Garab Rinpoche and Tulku Jampal. Kyabje Thinley Norbu Rinpoche spent nine years in Mindrolling in Tibet where he studied alongside the other rinpoches and tulkus of Mindrolling. Kyabje Thinley Norbu Rinpoche was also a close friend of Kyabje Mindrolling Trichen and composed a beautiful, heartfelt poem at the occasion of the parinirvana of Kyabje Mindrolling Trichen.
Jetsün Khandro Rinpoche has directed the sangha to offer prayers and practice the Vajrasattva sadhana in the days following the parinirvana of Kyabje Thinley Norbu Rinpoche. Mindrolling Lotus Garden will be scheduling a practice of the Vajrasattva sadhana (Minling Dorsem) for Kyabje Rinpoche within the next few days. Details will be announced as soon as they are available.