Dear Everyone,
Wishing you all a wonderful New Year 2014!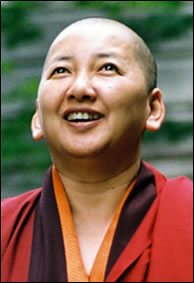 New Year is a time when people all over the world look forward to the coming year with hope and anticipation. It is universally seen as a time to celebrate. In fact, we can say that New Year is now almost synonymous with celebration. And although each day as a human being endowed with all its qualities and potential is a precious day worth celebrating and to be used meaningfully, yet, any excuse to celebrate and spread joy is a good opportunity. So when a New Year arrives, then the reason to celebrate becomes more far-reaching, giving us all an occasion to send each other our love and good wishes and celebrate the beginning of another year in all its diverse forms.
But from a Dharma perspective, what is celebration?
First of all, it gives us all an opportunity to thank everyone in our lives—an expression of gratitude. Also, celebration allows us to move forward by letting go of the past and looking to the future with renewed enthusiasm and hope.
But the true nature of celebration is our basic goodness. And that never ceases or exhausts. Like seasons, it may weather storms and powerful encounters, both joyful and those filled with grief, but ultimately this marvelous fundamental nature, gently abides and allows each one to once again emerge with renewed spirit and inspiration. Celebrating a new year is celebrating the spirit of this recognition.
True celebration is to recognize and touch base with one's basic goodness and move forward with this profound recognition with joy and inspired courage to utilize its powerful potential.
So I hope each one of you will join me in celebrating this New Year with introspection, awareness of sacredness of basic goodness and joyful strengthened enthusiasm to allow one's true basic goodness to outshine all disappointments, sorrows and discouragement.
Celebrate this New Year by allowing one's basic goodness to shine by uplifting and uniting the hearts and mind of those around you. Celebrate by allowing the best of one's human potential and qualities to bring warmth of love and kindness to everyone around you.
May this New Year be one filled with every goodness and bring everyone peace and contentment. On behalf of the Mindrolling family, the Monastery, Samten Tse and all of us, my best wishes for a New Year full of Dharma, transformation and the flourishing of basic goodness.
—MJKR